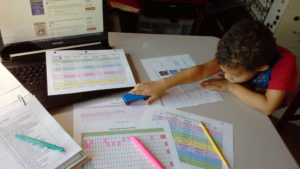 I tell people that I'm a writer, and they must imagine journalistic adventures to the Amazon or throngs of fans at a book signing. What I mean is that I'm sitting with a laptop in my recliner eating Nutella with a spoon, starting over on a project because I've procrastinated so long that I forgot where I was going with it. (And FYI, if you have any connections with the higher ups at Nutella, I'm down for being an affiliate in any capacity. I talk about the stuff all the time. It's my Turkish Delight.)
I'm a writer because I have to be. There are three or four journals in my car, one in my purse, and several hundred receipts, napkins, and packaging innards that have done the job of one. I write all the time–to remember, to process, to make room. If I could make money writing lists, I would.
This is my fourth blog, and I'm starting over because I'm just now figuring out who I am. At 49.
You won't see many staged, stylized images here because it would take too long to clear off my desk. Expect to see Legos, trains, and Iron Man's arm in the corners of my photos. There's a five-year-old boy in the mix. Back up and do some math if you want–49 with a five-year-old. That means that for a really, really long time I did what I wanted with the hours in my day. Now I don't. I married at 33, adopted at 43, and left a 21-year teaching career at 44. Late bloomer? Oh yes.
For 21 years, I taught high school English. I take that back: I taught teenagers. How to write. How to read. How to dig. How to be human when life sucks. Now, I create materials to help other English teachers go home on time. I'm pretty good at it; my curriculum resources are rigorous, fun, engaging and pay the bills. But they don't blow my skirt up. What feeds me is writing about everyday life–logging the crazy stuff my kid says, recounting what it's like to live fat, hugging the ordinary experience and laughing it into existence.
I'm going to write about it all–all that goes into living my life backwards. There will be stretches of posts about knowing more and doing better as a teacher, batches about parenting, and an occasional dig at people who can't connect with the fact that every day and everyday are not the same. We might even toss the salad with some theology. So, if you're an overweight, Jesus-loving English teacher with young children, you've found your home. If you're any of those things, you've found your home too. Come visit often. I'll be using my everyday china every day.